Welcome To Fisknat Landing Nets

Proudly the FIRST fly fishing landing net manufacturer to make a complete line of 100% Rubber bag, wood landing nets! We were also the first fly fishing net manufacturer to feature light weight rubber bags in ALL styles of our landing nets, and to have the full line of nets available in both clear or standard black light weight rubber bags. Fisknat Landing Nets is proud to be leading the Fly Fishing Landing Net Community in the right direction, to help with trout preservation.
​
Our beautifully handcrafted wood fly fishing landing nets, are the perfect item for every angler.
Carbon Fiber Fly Fishing Landing Nets!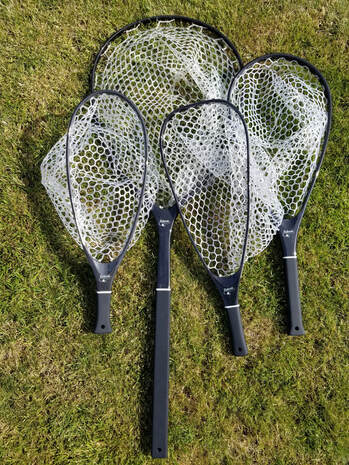 Fisknat Fly Fishing Landing Nets will now be adding 4 new Carbon Fiber Fly Fishing Landing Nets to our line up!

We will have 4 Carbon Fiber Fly Fishing Landing Nets soon. These new styles will include: 2 Hand Nets, 1 Float Tube Net, and 1 Boat net style to begin with!



---
Fisknat Landing Nets - Tacoma, WA - Bob Nelson - 253-538-1084 -
Fisknats@aol.com